CU29 Lightware, founded by Zoe Ramsey, is dedicated to designing and producing luxury handcrafted luminaires, created mainly in copper. A self-made designer, she now lives in San José del Cabo where she explores creating with different materials, forms, and lightning.

CU29
The Lights of Copper
Zoe welcomes me with a smile; it's the first time we meet. She's warm, lively, and makes me feel welcome in her studio, a space that instantly attracts me because of the diverse textures that inhabit it. The light of San Jose del Cabo comes in through the windows, illuminating the room in gold. I have the opportunity to take a look at her lamps before sitting down to talk with her about her lighting business: CU29 Lightware. Founded by Zoe five years ago, CU29 is dedicated to designing and producing luxury handcrafted luminaires, created mainly in copper, though she is constantly exploring further with other materials. Each of the pieces gives a protagonist element to the studio, giving it a warm and striking personality.
Born in Colorado to an American father and a Mexican mother, Zoe grew up in Puerto Vallarta. She now lives in Cabo, where today I have the opportunity to meet her to learn more about her work and her company. The duality of the two worlds that shaped it gives rise to a pleasant conversation in English where phrases in Mexican Spanish are intercalated.
---
Zoe, what's the story behind CU29?
Actually, my degree is not in Design. I studied Business Management and worked for an interior designer for a couple of years. This was like six or seven years ago. And at that moment, I realized there weren't a lot of national suppliers working in a way that American suppliers do. That is with a catalog, standardized products, customer service, having special prices for interior designers and architects. There wasn't a lot going on here in Mexico. I really wanted to start my own business. Because, at the time, I already knew all of the production parts, ordering, and producing with local carpenters. But I really didn't know anything about lighting. So, it's been a real adventure. (She tells me and laughs proudly.)
I first thought of furniture design, but I actually had a very small capital to start with. To start a furniture line, I would've had to have a lot of capital. So I decided to go for lightning. I didn't see anybody doing it, and I could start it with a smaller capital because they're smaller products. So, after working two years with an interior designer, I started the business. And then I found that I really didn't have time to do both. So eventually, I quit my job and started working full-time for my company.
How does your brand name connect with your product?
Originally, all of our lighting pieces were going to be made of copper. And so, CU29 is the element of the periodic table for copper. But I started realizing that it was kind of stupid to just stick to copper. So I began integrating other materials, like weaved palm, resin, and a couple of other things. I thought about changing the name, but I really like it a lot, so I never changed it.
Such a lovely story and name; I really like them! So, after copper, you started using other materials. Which are the ones that you like the most?
I love the copper ones very much. Besides the relationship that I've forged with the artisan who works all of the copper pieces is the best one I have out of all my artisans. I love working with them. They are so ingenious! A lot of times, I'm not sure how to piece something together. It's been really smooth working with them because they're some of the few artisans that don't close their minds to thinking outside the box. Working with artisans can be really hard in that sense because a lot of them have a certain way of doing things. And they really don't want to vary or stray far from their own path of doing things.
Could you tell us more about the copper processes that you use in CU29?
Working with copper is a very romantic process. Most of the copper that we use is recycled. So it needs to be molten, and then it's flattened out onto a sheet to be able to work with it. Each piece is hammered out by hand to give it the shape that it needs to have. Some pieces are worked with a lathe, but most of it hammered out by hand.
working with copper is a very romantic process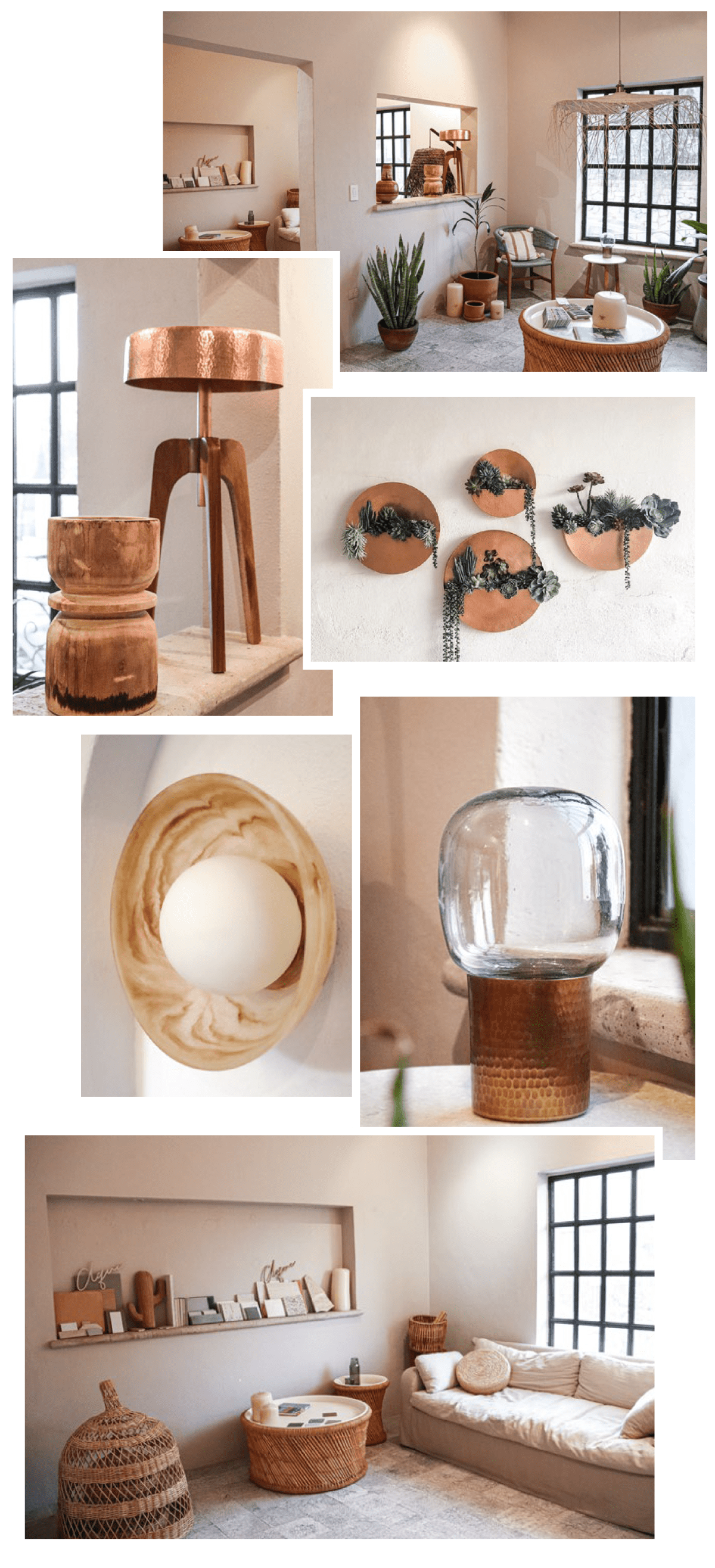 How do you make your products? How would you describe your process?
Starting from the creative process, at the very beginning, I used to think first about the design, what I wanted the piece to look like. And I realized that there's a lot of other factors that I must consider before considering that. Like cost, if it's too expensive to produce, it's not making sense, and it doesn't really sell. So, as much as I'd like to be romantic about it, well, it is a business. So cost is one of them.
Another big factor is how easy or how difficult it is to produce. I could come up with something that is really pretty and that's cost-effective. But if the artisan is having a hard time producing that piece, or he's never able to achieve the quality to the point where it needs to be. Then I gotta scrap it off the plate and start all over again. So, cost. How easy it is to produce, and that it obviously works with the general looks of everything else that we have, to follow the brand look and feel.
I also think about ways to make it not so easy for it to be copied. There are many artisans here in Mexico. And when working with artisans, it's really easy for somebody else to take the design that you've done and take it to a different artisan and just copy it. I try to add in parts and pieces that would be difficult to find. For example, our weaved palm light is a special weave that we came up with together with the artisan, and it was really hard to find any other artisan that would want do that weave. So it's nice that by simply having a different type of weave, we can still keep our copyrights.
That's the creative process. Once we have it figured out, we start producing a prototype, and that's a really long process. Artisans typically take between two to four and sometimes even six weeks to produce. We create the prototype, then do whatever changes are necessary and produce it again until it's the final piece. Then we take pictures of it and put them in our catalog.
How would you define the design aesthetics of your brand?
I would define them as clean but warm and simple.
What connection do you have to your designs?
The connection that I have to them is a very intellectual one because the trickiest parts of it are the parts that I enjoy the most. They don't have to do with the overall look. They have to do more with how to solve assembly problems. How to come up with a piece that will look good with another one and how am I gonna piece them together.
So I find that that is the real art behind my art. I don't think many people see that. I think a lot of people just look at the overall aesthetic of the piece. But the process of how to get there is the one that I have a love-hate relationship with. Because, at times, it really stresses me out, especially if I have a client who I told, "Oh yeah sure, I can do that," and then I end up having to… parir chayotes.

She laughs, and I can't but laugh with her, given the accurate way in which she describes 'something difficult to do' by using this classic Mexican saying. Parir chayotes means to give birth to a prickly squash native to the Americas, called "chayote".
sometimes, you have to learn to love what you do
What does your work represent and mean to you?
My work means a lot more than I ever thought it would. My designs mean a process. A long process that has taken me a while to achieve, and it means pride to me.
Over time I've learned to love what I do. There's this big hype about 'do what you love,' and many people are very focused on that. I think sometimes you have to learn to love what you do. I don't think it's all about just finding what you love. Sometimes when you learn to love what you do, it can be very rewarding.
What have been some of the greatest challenges in running CU29?
I think the beginning was really hard because I knew nothing about lighting, to begin with. So I had to immerse myself in a world that was foreign to me. I was doing everything myself, production, finding clients, and designing a catalog. Once I had all of that ready and started selling, one of the biggest challenges was the packaging. It was a big issue. You don't realize how easily things get broken along the way. And most of our pieces are not sold here in Cabo. Most of our pieces go to Mexico City or Guadalajara or even as far as Merida. So, packaging has to be done right. And at the same time, we try to use the least plastics possible, which has been difficult because trying to get something not to break by just using cardboard is tricky.
From all your designs, which would be your three favorite pieces and why?
Discada, because I think it's really pretty and it's also super easy to make. Another one would be the weaved palms just because it's a special process. And last, it would be our taco lights, only because they sell like hotcakes.
"Sell them like tacos!" The voice from her coworker Ale comes across from the other room, and we all laugh. As Zoe explains later, CU29 is a shared studio with a design and architecture firm. It's a spacious and illuminated double room. They describe it as a 'beautiful space with lovely company,' and I couldn't agree more.
And finally, what comes next for CU29?
We have a new catalog coming out, with more pieces and different materials. We're now working with wicker, only a couple of pieces because it's been really challenging. There are a lot of wicker artisans, but most of the wicker in Mexico actually comes from Malaysia. So we were able to find an artisan that sources his wicker in Mexico, which I think is really cool. And just the whole process of them going out and cutting, sourcing the wicker, and weaving it and everything that they do. I think, is really cool. So that's right around the corner, creating this new catalog.
Brand: CU29 Lightware
Founder and creator: Zoe Ramsey
Homebase: San José del Cabo
Product type: Handcrafted luminaires
cu29lightware.com
IG @cu29lightware
---
A version of this article appears in print, in Issue 0 of Álula Magazine, with the headline: "CU29, The Lights of Copper."