Open call for submissions!
Submissions for Issue 3 are open, and we want to hear from you!  
December 29th, 2023
We are now accepting submissions for creating Álula Magazine, Issue 3. Pitch your idea to submissions@alulamag.com, we want to hear from you!
---

Álula is a magazine that focuses on the travel experience through design. All our content is related to art, architecture, interiors, graphics, fashion, culture, and the experiences these evoke while traveling.
Álula Magazine welcomes all voices, from occasional travelers to experienced nomads and all kinds of creatives. Whether you're a journalist, writer, photographer, designer, illustrator, artist, or creative, and if you're passionate about travel, Álula has a space for you.
As an independent magazine, we're driven by creativity, originality, and aesthetics. We publish short narratives, travel experiences, feature stories, and interviews across digital and print. Through our platform, we wish to shine a light on positive, cultural, and meaningful travel and inspire our readers to pursue their dream travels.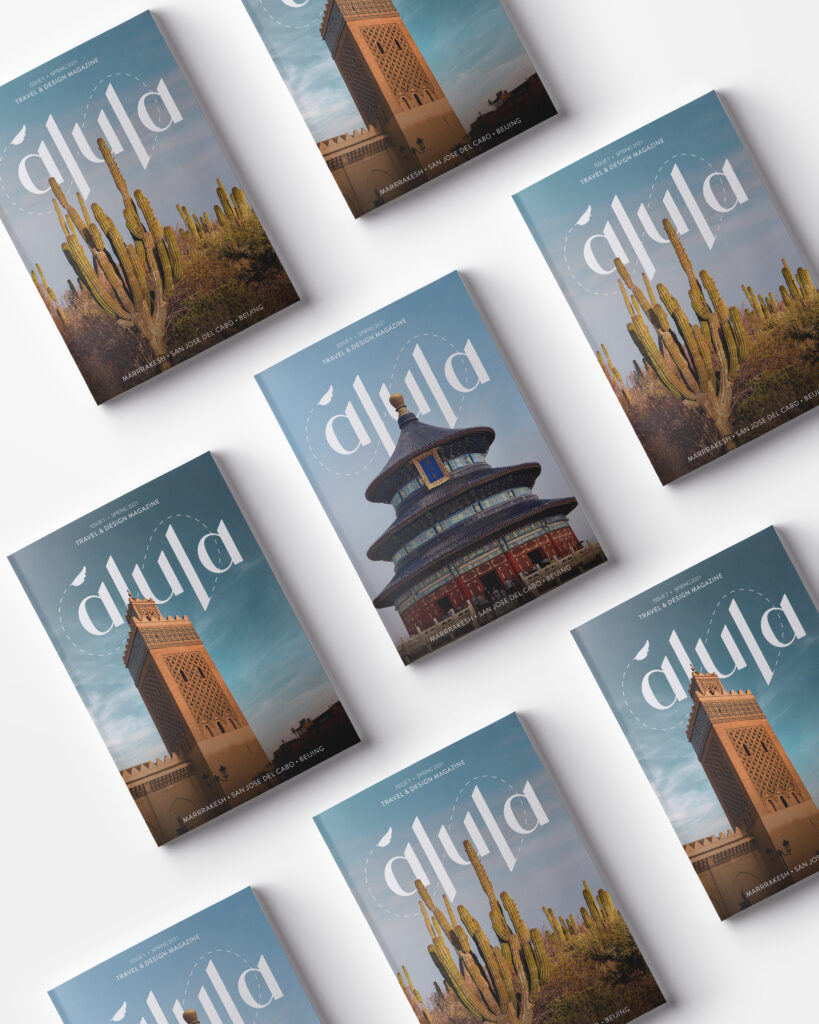 Editorial Line
Our vibes, mood, and style
Álula is a magazine all about traveling through design. That means all our content is related to arts, architecture, graphics, fashion, culture, and the experiences these create while traveling. Through them, we wish to inspire and cultivate curiosity within our community.
We're not another common travel guide or a regular travel blog. We want to find what makes a destination unique, break down the nuances that make it special, and create a beautiful compound of stories, images, and graphics to share with our audience. We aim to elevate the travel experience by using our creativity, voices, and artistic expressions in a fresh way.
Álula is a magazine that celebrates curiosity, appreciation, beauty, and creativity, as well as feminism, inclusion, and diversity. We work toward a more meaningful way of traveling; its charm is in the small details, and the magic reveals itself when we look close enough. 
Do we find pleasing and enchanting what others find mundane? Absolutely. Are we constantly seeking the best light, positive vibes, and the most captivating side of things? Certainly. Are we turning experiences into poetry and landscapes into art? Oh, yes, we're doing that. Do we romanticize things? A little, maybe. Okay, we do it a lot. If this resonates with you, we'd love to collaborate with you and showcase your work!
Topics & Categories
In other words, what does "a travel & design magazine" mean?
The topics we cover in Álula Magazine are design, architecture, fashion and style, experiences, art and culture, and gastronomy.
We believe traveling is an enriching experience, and we've found that with a creative mindset—and since we're designers—we were seeing another perspective that few people saw. That is precisely how we'd like to showcase travel to our readers!
Design is a very broad term, so we want to be more specific. These are the design topics covered in Álula Magazine:
Architecture, interior design, and furniture design.
Product design and art objects. Ceramics, glass, and woodwork are a few examples.
Fashion, textile design, jewelry, haute couture, and traditional clothing.
Art and culture, such as painting, sculpture, festivals, galleries, etc.
Of course, beyond the material expression, we want to present the people, the designers, and the creatives behind these creations, so we are interested in telling their stories and sharing their vision of the world.
Have you made an extraordinary trip and want to share your experience? Do you know a relevant architectural masterpiece that has changed your trip? Did you meet a creative person, artist, or creator who makes a positive impact on their community? Do you know where to find the best design boutiques in your city? These are just a few examples, and we hope they can inspire you.
Share your ideas with us; we'd love to hear from you!
Writing Guidelines
Published both in English and Spanish, we accept submissions in either language. All works must be original and not previously published.
Word Count
Our pieces range from 300 to 1200 words.
We are looking for:
Content related to art, architecture, interior design, graphics, design, fashion, and culture, and how these topics impact the travel experience.
Stories about creative people, designers, architects, artists, or their work.
Travel guides from an angle of any creative field: arts, architecture, design, fashion, etc.
Short texts, personal stories, photo essays, guides, round-ups, and reports linking design and travel.
We are not looking for:
✖ Articles that seem from an encyclopedia. Wikipedia is already great at that.
✖ Hotel, tours, services, or attractions reviews. TripAdvisor is full of those.
✖ "Ten things to do in X destination," Google has that covered.
✖ "How to [insert any travel hack]," we all watch YouTube for those, don't we?
How to Pitch
Please send a 2-3 paragraph pitch outlining your idea to submissions@alulamag.com.
Tell us what your idea is about and how you would tell that story. Include any relevant detail that will help us understand how you'll bring the idea to life.
Remember to indicate to which category your proposal belongs (design, architecture, fashion and style, experiences, art and culture, or gastronomy). If you have photos or any accompanying material, please let us know in the pitch, too.
Please send your proposal with a short introduction of yourself. If possible, please include some links to other published work or attach samples to the email. Also, let us know how you found out about the magazine. We're curious and excited to know!
All work accepted by Álula Magazine is subject to possible edits and translation. We will send an edited version of your piece to you before the release of an issue. Please read it, and in case there are changes you do not agree with or changes you would like to make in addition, let us know.
Art Guidelines
Photography, photo collections, illustrations, infographics, mixed media, etc.
We are looking for:
Editorial photographers
Illustrators
Graphic Designers
Artists and creatives
We're constantly looking for talent; if you'd like to be part of our collaborators and work on projects on commission, please reach out to let us know.
We love to work with creatives!
How to Collaborate
Please write to submissions@alulamag.com with a short introduction of yourself, samples of your work (please, no links to Google Drive), and a link to your website or portfolio if you have one.
If you have a specific idea, story, or concept, pitch it in the same email. Make sure it goes along with our editorial line and has a visual narrative.
Get in Touch
Email us submissions@alulamag.com
We hope to hear from you soon!
---

FAQ
I am a writer, photographer, illustrator, and creative, and I want to submit a pitch to Álula Magazine. Who do I talk to?
Please review our submission guidelines and email submissions@alulamag.com with your ideas. We're excited to hear from you!

Is there any cost for submitting my work?
No, there's no submission fee of any type.

Are all pitches reviewed?
Yes, all submissions are read without exception. We cannot always send an acknowledgment, but we'll do our best to send a response whenever possible.

What sort of articles are you looking for?
Álula is dedicated to publishing travel through the lens of design. Our ideal article is related to any of these fields: architecture, arts, culture, design —all types, interiors, products, graphics, fashion, etc. Review our categories to ensure your pitch falls within these topics: design, architecture, fashion and style, experiences, art and culture, or gastronomy.

Will I receive a payment if my work is published?
As a young publication, we are in the process of expanding our reach and establishing ourselves in the industry. In order to prioritize our resources in fostering a vibrant community of contributors and amplifying diverse voices and perspectives, we have made the decision to focus on providing opportunities and recognition rather than financial compensation. Please be assured that your work will be treated with the utmost care and professionalism and presented in an engaging manner. We welcome you to join us on this exciting journey and can't wait to showcase your extraordinary contributions!

Got a question we didn't cover?
Email us at hello@alulamag.com, and our editor will get back to you as soon as possible.